History of the Munster Police Department
Local law enforcement was first organized in August, 1907, by the trustees of the new town through the appointment of Town Marshal August Richter. A year later the board allowed him to purchase and carry a revolver, with the understanding that he would return it to them at the end of his service. Little more is known about Marshal Richter or the town arsenal; he was apparently succeeded in 1908 or 1909 by Garrett Jansen, who was also Munster's first treasurer.
The post was hardly challenging. Dangerous criminals found little to interest them in Marshal Jansen's sleepy village. In January, 1915, chicken thieves foraged through the Porter's hen house, bagged four geese from the Kirsh family, and escaped. In August of the same year a runaway motorcycle smashed a water tub in a front yard. In 1916 the marshal's home was designated as Munster police and fire headquarters, and a telephone was installed there at public expense. The board ordered Marshal Jenson to arrest anyone seen hauling dirt on town roads on Sundays. In 1917 Jansen ordered Bert McKee to keep his Columbia Avenue saloon closed on Sundays or face the consequences. In 1919 drivers on Ridge Road were greeted with a half dozen signs warning them to "Keep Mufflers Closed & Obey Speed Laws."
Jansen was succeeded in 1925 by Henry DeVries. The new marshal patrolled Munster on his official motorcycle at first, but was soon given a "squad car." DeVries occupied some of his ample spare time as town water meter inspector. His successor in 1932 was Edward Bennett, a native of Crawfordsville, a former state trooper and one-time Highland town marshal. Ed Bennett served well and wisely until his death from heart failure in 1945. A widely respected man, he also held the posts of water works superintendent, street commissioner, and meter inspector, and was active in many civic organizations. The "unofficial mayor" of Munster, Bennett also supervised the activities of a dozen volunteer deputies, and enlarged the marshal's office in 1944 with the appointment of Assistant Marshal Forrest Hill. Bennett forthwith gave him the "night shift."
The mid-forties brought frequent changes in men and measures. Following Bennett's death, Jake DeMik served as interim town marshal for over a year. Charles Chapman was named marshal in April, 1946. A former Hammond High School athlete, trained private investigator and Lake County sheriff's deputy for three years, Chapman was given a "slam-bang sendoff with a new police car."
Marshal Chapman began with an ambitious training program for his seventeen volunteer deputies. Lectures on law enforcement were given at town hall on Monday evenings. A crack shot, Chapman built a pistol range south of the residential district for marksmanship and weapons safety training. But less than a year later he died in a tragic accident.
Deputy Clarence Siefken became Munster's next marshal.

During his eight month tenure Siefken tried to persuade the board to install a two way radio in the town police car, tuned to the Hammond police frequency.

That was too expensive for the frugal trustees, and the project died at the talking stage.

In late 1947, Siefken was replaced by Deputy William C. Retzloff.

Unhappy with his $3,000 a year salary, Retzloff resigned less than a year later.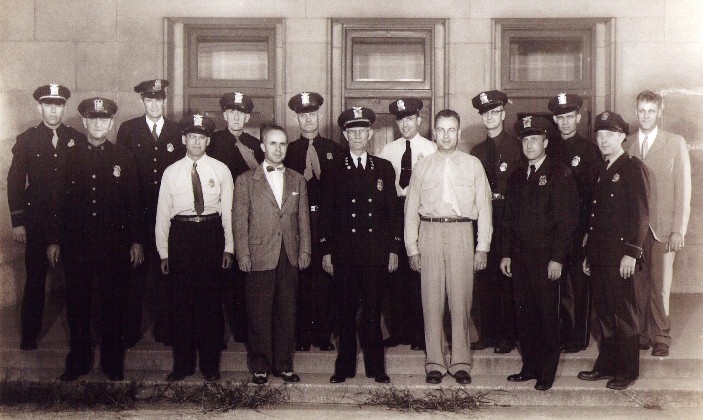 Back row: Pritchard, Abel, Schmeuser, Schmidt, Pritz, Van Wieren, Jurgens & Lessentine
Front row: De Mik, Shire, Helton, Chief Funk, Schreiber, Moore & Retzloff
In April, 1948, Adam Funk became town marshal, and served for five years.

Funk had been a Hammond police detective for twenty-three years, then a Goldblatt's security officer.

Crime was still a minor business in Munster.

In June, 1948, Funk investigated one automobile accident and several animal bites, and dispatched one rabid dog.

But B-B guns had shortened the lives of street lights and windows for years, and Funk wisely emphasized youth work.

He organized a Junior Deputy Marshal Association and sponsored an ambitious program of youth canteens, dances, and sports.

A juvenile "court" was formed to "teach Munster's youth the meaning of law and order to make them better citizens."

Funk also transferred the police and fire telephones from his home to town hall, and installed a two way radio tuned to the Hammond police frequency in his patrol car.

Funk was introducing the beginnings of modern law enforcement techniques, but ill health forced the well-liked "Christian Cop" to resign in 1953.
Harold Pritchard was named acting town marshal by Police Commissioner Harry Helton early in 1953. The marshal's office then employed three men; Pritchard, who had served since 1949, former Marshal Retzloff, and Robert Landon, who joined in January, 1953. A forth was added later in the year. Twenty-three volunteer deputies took turns riding in the patrol car and assisting the full-time officers in various other ways.
Two notable changes occurred during Pritchard's four years in office. A November, 1955, town referendum approved the adoption of a "metropolitan" police system, which went into effect in January, 1956. Munster now had a modern police department, governed by an appointed three member police commission. Town Marshal Pritchard became Chief of Police Pritchard. Officers thereafter enjoyed civil service appointments and a pension program. The Deputy Marshal's Association donated a Munster-based radio transmitter to the newly professionalized department, and the town hired three radio dispatchers to serve both police and fire departments on a full-time basis. A two way radio was installed in the new fire department emergency unit, enabling it to double as a second police car. The new chief of police also organized the department's fingerprint and photograph files.
The police commission apparently failed to appreciate Pritchard's activist style, and discharged him in early 1957 for a variety of public and unannounced reasons. Politicians rushed to his defense and loudly opposed his ouster, but the commission struck to its guns, and Deputy William Retzloff became Munster's second chief of police.
The department faced the challenging problems of the sixties with a growing and professional force. Dog bites and chicken thieves had been superceded by waves of traffic offenders, vandals, burglars, and occasional armed robbers using Munster's inviting new expressway interchange. The department's primary response to these problems after 1956 was to expand from ten men in the early sixties to thirteen officers and five civilian employees in 1969.
There was little choice. As the town's population grew, so did traffic and crime problems. In 1960 the department reported thirty burglaries, wrote up 164 accidents, and registered hundreds of bicycles. By mid-decade the department's cars were traveling nearly two hundred thousand miles a year. Dispatchers handled a dozen calls a day, and officers were documenting hundreds of offenses every year. Patrolmen concentrated on speeders, particularly in school zones ("Speed Limit 19" warned the signs), and kept Munster's new "Cafeteria Court" very busy.
By the mid-sixties police headquarters in town hall was impossibly crowded. The former Munster Library building became available in 1968, and the trustees spent nearly four thousand dollars converting it into a new police headquarters with a radio transmitter and four cells. The old kitchen became a photographic darkroom for processing "mug shots." The 1968 departmental budget was $283,000.
The department met the challenge of the seventies with more officers, modern equipment and state of the art law enforcement methods. Much emphasis was given to advanced police training and records management. Chief Retzloff retired in 1973 and was succeeded by Captain Louis Beratis. An Indiana Data and Communications System computer was placed in operation in the same year.
By 1976 twenty -seven officers and seven civilians were full time departmental employees, and headquarters was again overcrowded.
In 1979 former Hammond Police Department records clerk Sherry A. Brown joined the force.

The department she joined was exceptionally well educated: ninety percent of its members had attended college, and several had earned degrees.

Half were enrolled in a law enforcement program at Calumet College.

In 1982 the department was pleased to move into new, spacious headquarters in the municipal complex.

Its annual budget by then was somewhat larger than the sixty dollars appropriated for the town marshal in 1907.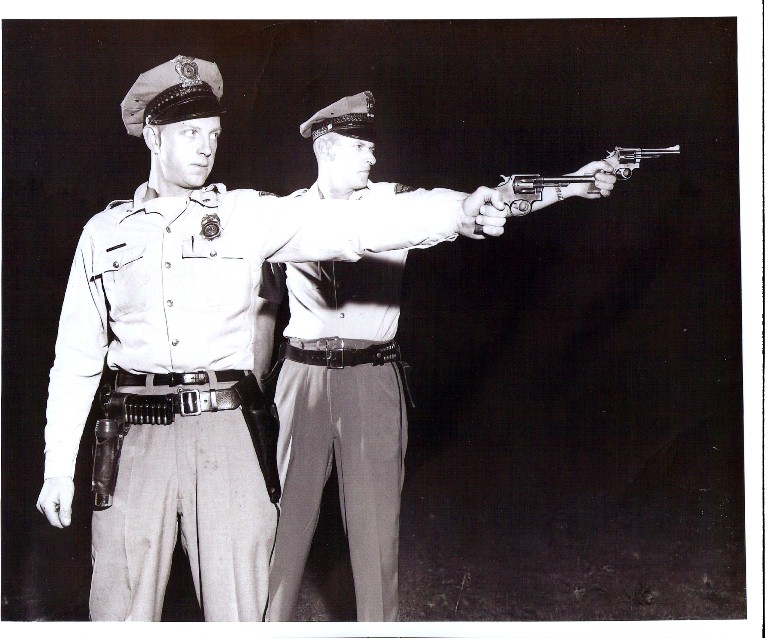 Officers Charlie Simpson and Fed Abel at the shooting range in June 1955.