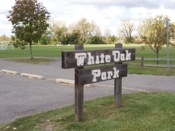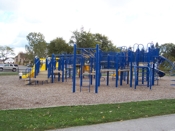 Located south of 45th Street on White Oak Avenue, this 1990 acquired park was developed in 1996. It's wide-open, expansive fields are home to many community soccer games, family events and exercise enthusiasts. A bridge connects this park to Twin Creek Park. During the winter months the west end of the parking lot is converted into an ice rink for hockey players.
Soccer Field
2 - Soccer Fields
Softball Field
2- Softball Fields
Playground
1 - Playground Area
Ice Rink
Weather permitting
Walking/Jogging Trail
Trail Distance approximately 1/3 mile
Outdoor Shelter Facility
1 - Shelter centrally located
Accomodates 100 people
Restrooms
Restroom facilities centrally located in shelter areas
Parking Area
Ample parking available throughout the park, including handicapped spaces.