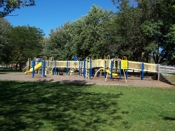 Located in the center of the town and east of the Munster branch of the Lake County Library, the Town's largest developed park offers a variety of activities and is home to many local, regional and state events. This park offers a variety of amenities and is widely used by Munster Parks and Recreation for programs, sports, camps, special events and special organizations like Little League, Girls Softball and Babe Ruth Baseball. Special events held in the park include an annual car show, tennis tournament, summer arts and craft fair and the kids triathlon.
Baseball/Softball Fields
2 - Babe Ruth Baseball Diamonds
3 - Little League Baseball Diamonds
3 - Girls Softball Diamonds
Basketball Court
4 - Basketball Goals/2 Courts (lighted)
Tennis Court
10 - Tennis Courts (8 lighted)
Skate Park
Assorted skate ramps
Ice Skating Rink
Weather permitting
Playground
2 - Playground Areas to the North
Walking Trail
Winding trail through the park
Outdoor Shelter Facility
1 - Shelter centrally located
Accommodates 125 people
Concession Stand
2 - Concession stands located at the ball fields
Restroom
2 - Restroom facilities centrally located at the ball fields and playground
Parking Area
Ample parking available throughout the park, including handicapped spaces. Parks is also available at Munster High School and Wilbur Wright Middle School parking lots.