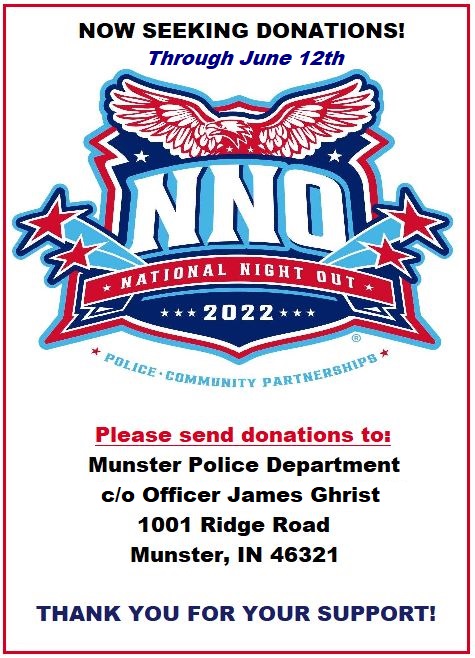 The Munster Police Department and Choice Community Council of Munster are NOW SEEKING DONATIONS THROUGH JUNE 12TH towards Munster's 27th Annual National Night Out Against Crime Celebration, which will be held on August 2, 2022 at and around the area of the Munster Community Pool. This event is held annually to promote positive and community partnerships through a variety of both fun and educational activities for all ages and is completed funded through donations from the public.
This year's event is scheduled to include a Community Parade, free swimming for Munster residents, door prizes, kids games, many booth participants, K-9 demonstrations, crime prevention information, The Magic of John Measner, giveaways, food, music, an awesome closing fireworks show sponsored by Krazy Kaplan's Fireworks, and more. Our event is consistently ranked as one of the top National Night Out events in the United States each year thanks to great support and participation from our community. For more information about this year's event, please click here.
If you would like to provide a donation, please make checks payable to the TOWN OF MUNSTER (memo: NNO) and mail them to the Munster Police Department, c/o Officer James Ghrist, 1001 Ridge Road, Munster, Indiana 46321. For more information, please contact Officer Ghrist at 219-836-6639 or jghrist@munster.org.
Thank you in advance for your support of our event this year!