2019 National Night Out Volunteers stand together with Munster Police Chief Steve Scheckel, Officer James Ghrist, and members of the Munster Town Council during a recognition of Munster's national ranking on January 20, 2020 at the Town Hall.
The Munster Police Department was notified this past December that the town's 2019 National Night Out Against Crime Celebration was ranked by the National Association of Town Watch as the 8TH BEST event in the United States in the 15,000-50,000 population category, and that Munster was the ONLY Indiana community that was nationally ranked among the best events in any population category.
Munster's 24th Annual Event was held on August 6, 2019 and featured a large number of fun and educational activities for all ages. The event attracted its highest number of attendees, booth participants, volunteers, and sponsors ever and was truly a community-wide effort. Thank you to everyone who helped to make last year's event a success!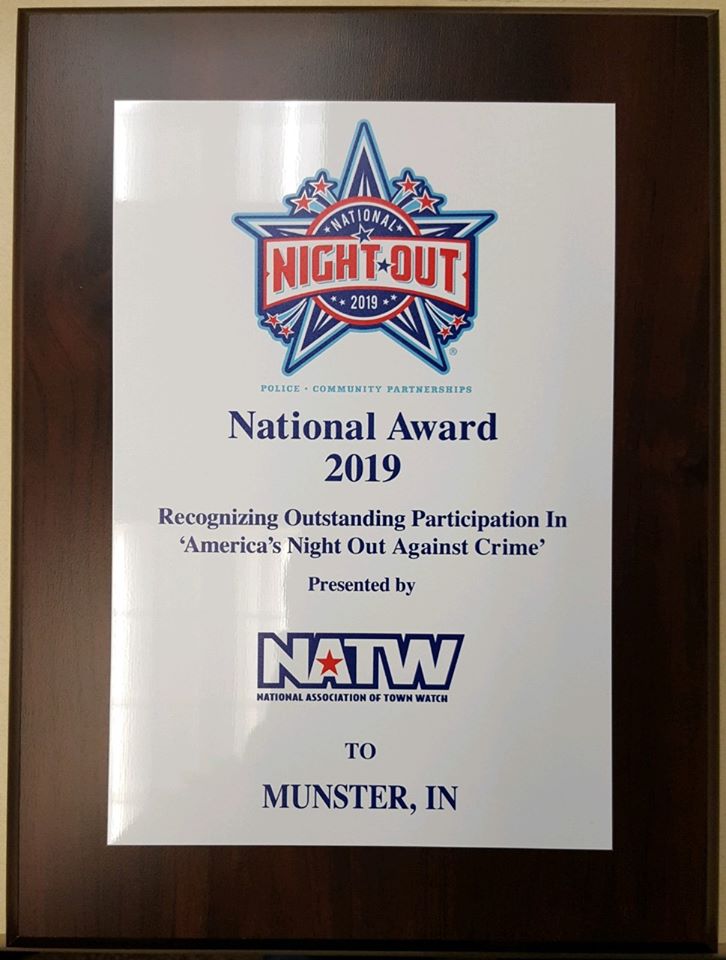 We look forward to planning our 25th Anniversary National Night Out Against Crime Celebration this spring! Please mark your calendars for this year's event, which will be held on Tuesday, August 4, 2020. Several days of pre-events will also be included again this year and details will be announced this spring!
For more information about how you can get involved with this year's event, please contact Officer James Ghrist at 219-836-6639 or jghrist@munster.org.