Welcome to the Town of Munster Water Billing Department online bill payment system.
We are pleased to offer this new online payment feature. Please be patient as we tweak the user interface. The balances are correct as of the prior day and your payment will be recorded on your account the following business day. Your bills may not appear exactly correct yet, but we are working on this feature.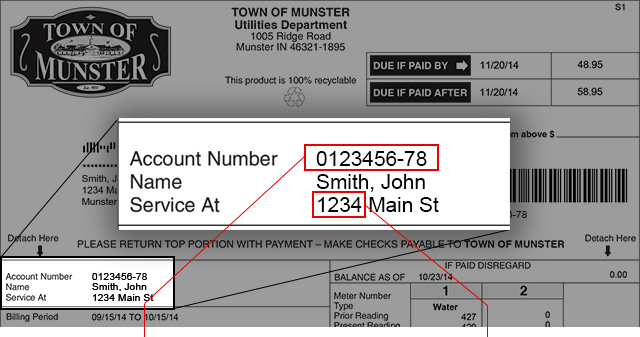 Please note that both Account Number and House Number of the Service Address are required.
To pay your utility bill online with your credit card, please have your utility bill and credit card account information available prior to starting your session.
With this system, you can also create an online account and view your bill. You will be able to register to receive e-bills via email in the near future. To download the form to register for automatic payment via your checking or savings account, click here.
To contact the Town of Munster Water Billing Department, please call us at (219) 836-6948 or (219) 836-6949. You can also reach us via email at webmaster@ci.munster.in.us.
Please note that online payment processing is provided as a free service of the Town of Munster Water Billing Department.
Login (Optional)