Welcome to the Town of Munster Water Billing Department online bill payment system.
We are pleased to offer this new online payment feature. Please be patient as we tweak the user interface. The balances are correct as of the prior day and your payment will be recorded on your account the following business day. Your bills may not appear exactly correct yet, but we are working on this feature.
One time payments by a credit or debit card may be made here without further registration. If you would like to set up to have your bill paid automatically each month from a checking or savings account, please fill out this form and drop it in the red drop box in the Town Hall parking lot.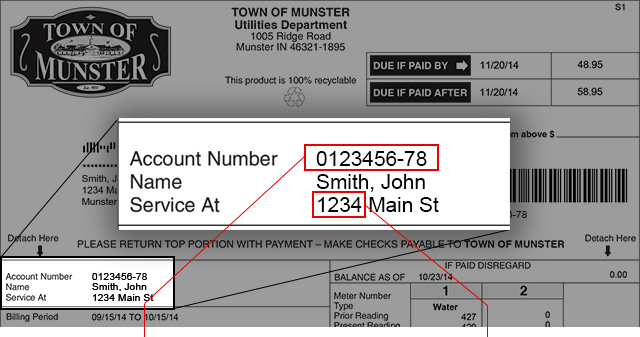 Please note that both Account Number and House Number of the Service Address are required.
To pay your utility bill online with your credit card, please have your utility bill and credit card account information available prior to starting your session.
To contact the Town of Munster Water Billing Department, please call us at (219) 836-6948 or (219) 836-6949. You can also reach us via email at waterbilling@munster.in.gov.
Munster now offers residents the option of having their utility bills delivered electronically via email. You can opt for e-bills in addition to paper bills or e-bills only. Finally, you may sign up to have your bill paid automatically each month by a credit card.
To set up e-Billing options you must have a User Account. Please click "Sign Up for e-Billing" below and then login or create an account in order to choose e-Billing options.
Login (Optional)