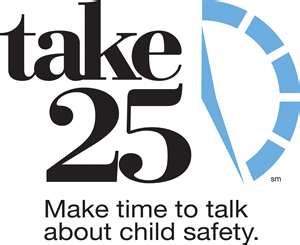 NATIONAL MISSING CHILDREN'S DAY
"Take 25" is a preventive child safety campaign created by the National Center for Missing & Exploited Children in honor of National Missing Children's Day on Friday, May 24th. The Take 25 campaign was designed to raise awareness of the issues surrounding missing and exploited children while encouraging parents, guardians, educators, and others to "take 25" minutes to talk to children about safety.
For the third consecutive year, Munster and its public and parochial schools will once again be particiting in the "Take 25" campaign. On May 24th, elementary teachers will be asked to "take 25" minutes with their homeroom students to talk about stranger-danger, internet safety, and other related subjects to promote safety. The Munster Police Department will be providing some of the presentation materials to the teachers for that day.
Parents are also asked to "take 25" minutes at home to build upon what was discussed at school and to add whatever they feel is appropriate to the discussion.
We hope that many parents and teachers will decide to be a part of this important program on Friday, May 24th. For more information about the Take 25 campaign, please visit their website at
www.take25.org
or contact D.A.R.E. Officer James Ghrist at 219-836-6639 or
jghrist@munster.org
.